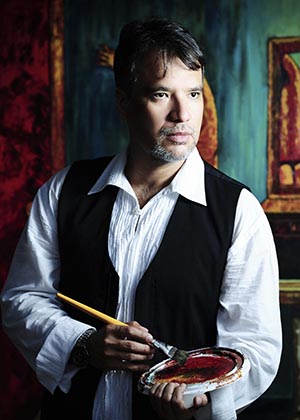 On June the 25th, 1969 in the city of Cali, department (state) of the Cauca Valley, Colombia, was born David Benadiela Morenu (Gustavo Rincón Moreno), son of a nurse (Adiela Moreno Betancourt) and a dentist (Gustavo Rincón Ramírez). One month after his birth the family moved to the city of Armenia, capital of the department of Quindío, where he growth and lived until 1994.
Morenu started drawing at five years old, sketching everything that appeared around him. He also made figures in old dental wax that he earned from his father.
While his mother worked at the Clinic St. Joseph's Social Insurance Institute, in the afternoons after school, Morenu used to spend long periods working inside the dental laboratory located at his father's clinic funds, helping him in wax modeling of dental prostheses with perfection in its anatomical details, his passion for sculpture was born.
In 1978, being 9 years old, Morenu started high school at the Industrial Technical Institute (ITI) of the city of Armenia, where he attended technical drawing classes and in the second year he chose metal casting as his area of ​​concentration, learning how to manufacture building identification plates, containers, chandeliers, ashtrays and various objects in aluminum and bronze, building up his first sculptures of human figures through the "lost wax" technique.
For health reasons Morenu had to leave the I.T.I. and the foundry workshop. He finished the last two years of high school at Jorge Isaacs College in the city of Armenia, where he met the then nascent and nowadays great representative of the Colombian painting Abiezer Agudelo who in 1983 began his brilliant career. From Abiezer Agudelo received great encouragement for drawing and painting and together they worked during the period of 1984 – 1985 at the Abiezer's studio located between avenues 13 and 14 of the city of Armenia. At the age of 14 in 1985 he participated in the first children's and youth art salon of Quindio's artists at the Roberto Henao Buriticá showroom of Quindio's Government building. Between 1984 and 1989, he participated in painting workshops in the city of Bogotá with the Colombian masters Alejandro Obregón, Leonel Gongora, Jim Amaral and Maria de la Paz Jaramillo.
His passion for medicine and arts made Morenu decide in 1985 to become a plastic surgeon, switching the inert support for the living matter. So, he started medical school in 1986, at the University of Quindío, a public institution of higher education in Armenia, capital of the department of Quindío.
From 1984-1992, Morenu participated in two solo and four group exhibitions. Due to medical studies, he was forced to stay away from the artistic scene, but always producing works by commission.
Morenu got medical degree in 1994 and completed the rural year of compulsory social service in the Colombian Amazon in the city of Puerto Asis, where he had contact with the indigenous culture, absorbing elements and colors that were present in his works fot too many years.
In 1996 Morenu traveled to New York for researching contemporary arts, visiting galleries, museums, and painting works that were sold on the inner streets of Central Park.
In 1997 Morenu moved to Rio de Janeiro to attend specialization in general and plastic surgery, meanwhile he studied portraits for two years with the carioca artist Geraldo Aguiar, with emphasis on dry pastel, but working also with charcoal, graphite and watercolor.
In 2004 Morenu was prized with the first place in painting in the national olympiad of talents of the Brazilian Society of Plastic Surgery with the work "evening's lies", acrylic and oil on cardboard 50 × 70 cm. Morenu assigned his works with his father's name "Rincon" until 2007, when he adopted his Hebrew name David Benadiela Morenu, as his artistic name, and so on, began signing simply as "Morenu".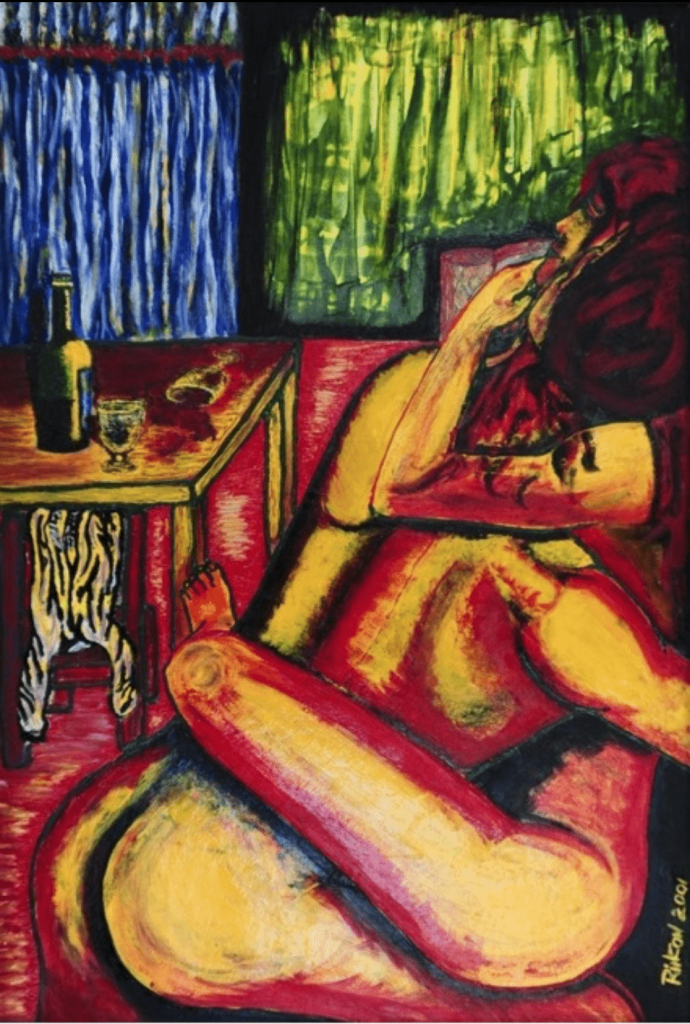 In 2007 Morenu moved to Brasilia, Brazil's capital, where he attended the Dulcina de Moraes School of Arts for two years and after this, he got degree in Visual Arts at the University of Brasília School of Arts. In 2014 Morenu attended an artistic residency at Dacia Gallery in New York, that finished with the group exhibition "Painting in New York" with artists from three continents.
From 2012 on, Morenu returned to the artistic scene, participating in individual and collective salons and shows in Brazil, the United States of America, Europe and Asia.
Morenu currently lives and works in Rio de Janeiro and Brasilia, where he owns his studio in Southwest Sector.